S'up guys?
So I got busy again last night and today I bring ye...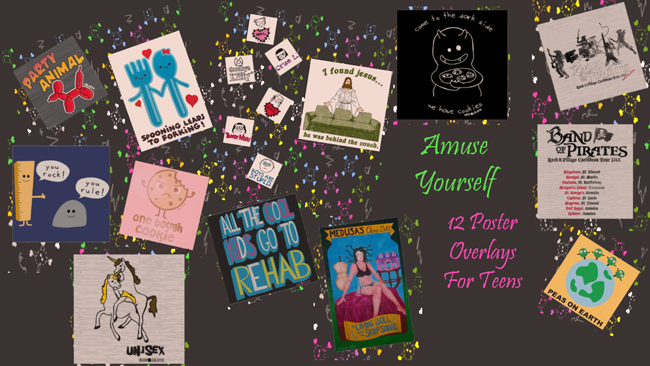 Most images are from the David and Goliath store, but one I found browsing Google for something colourful, and another was on a tee-shirt I /REALLY/ wanted over the summer.
They're on the mesh by the fantastic
Club Crimsyn
, included thanks to their awesome rules.
So here is what you get.
1. Spoon = Fork
2. Tought Cookie
3. Rock n Rule
4. Rehab
5. Band of Pirates (Two images in one)
6. Darkside Cookies
7. Unisex
8. Medusa's China Doll
9. Peas on Earth
10. Party Animal
11. Finding Jesus
12. David and Goliath Collectin (The small icon type cluster)
So, as usual, terms apply. Upload, eidt and what not, but no paysites. Ever. Or the exchange. It would bring about the end of the world it you did.
Get 'em here -->
Click it!